I've been watching The Creatives (a TV show from 1998 starring Roger Allam) and I can't help but notice some considerable similarities between his character in that show- Charlie- and our own Douglas Richardson. Such is the extent of this that I have come up with a head canon where Charlie is Douglas's brother and their family has some serious issues. This character study is going to go on a bit and I'd put it behind a cut if I could but stop reading now to avoid my ramblings (and spoilers for the series… if you want to watch the show, by the way, send me an ask and I'll see what I can do about getting it to you).
When we're first introduced to Charlie, he appears to be a complete git (a charming and completely gorgeous git, but a git all the same). He's the head of an advertising agency in Scotland but had once had a considerably more successful advertising career (presumably in London). He's reluctant to give the producer, Lauren, control over any big decisions and will take things over without telling her first. At the same time, he is willing to take credit for work that she has done.
This all appears to stem from ingrained misogyny: the first time we see him he's being given clean pants (as in underwear) by his PA who does all his washing for him. He spends the first episode hunting for a, to quote him, 'pretty' female secretary (women having the better developed 'filing genes'). He gets his 'pretty' secretary, but she also happens to be extremely clever and he is plainly smitten. Despite having appeared to be a womaniser, he doesn't try to get her into bed at once, instead turning out to be somewhat of an old romantic and attempting to woo her- at one point, for example, he dresses up appropriately after she reveals a fondness for 1960s kitsch. 
The advertising agency operates on a tight budget and they often face significant problems which Charlie has to overcome using his not inconsiderable wits. Unfortunately, however, Charlie is also a heavy drinker though 'don't you dare' insinuate that he's an alcoholic. He often passes out over a bottle of vodka in the office overnight, only waking for the morning meetings. While the other members of the agency have outside interests and relationships, his life very plainly revolves around work and alcohol. The title sequence of the show has him stumbling outside of the office, blurry eyed and dishevelled, in the morning as the others arrive. 
In the third episode of the series, Charlie states that he's going to stay off the alcohol for a week in order to prove to his co-workers that he's most certainly not an alcoholic. It's telling that to assist his abstinence he tells his PA 'I want you to cancel my… well, everything, I guess. I want a taxi outside the office every night to take me home and a padlock for the drink's cabinet. And ring Gerry at Oddbins and tell him not to worry, I'm not dead.' His co-workers tease him mercilessly about his drinking, and when he gets one of them to buy him a bottle of vodka they replace the alcohol with water.
The water / vodka situation results in what is essentially a cross between the 'Fitton' and 'Boston' episodes of Cabin Pressure. Charlie had no intention of drinking the vodka himself (though it takes considerable effort to resist the temptation) but was instead using it to spike the drinks of an extremely difficult actor they have working for them. This Douglas-esque plot goes awry when the actor dies mid-shoot ('we should call an ambulance' 'that seems quite optimistic'). They need to finish the shoot so they keep filming with him posed, dead, before 'cancelling his taxi and ordering an ambulance.'
The man's wife sees that he's dead when Charlie 'finds' him collapsed, and smells alcohol on his breath, lamenting that the doctors had told him that if he had another drink he'd die. The police arrive along with the ambulance and Charlie thinks he's accidentally killed the man, unaware that he'd spiked the drinks with water and that the man had been swigging whisky all day. Charlie's conscience is roused, and with it his urge to drink rises, he attempts to break the padlock on the drinks cabinet. Eventually, and after protracted torment, the rest of the agency reveal the ruse.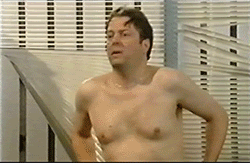 Sorry, couldn't resist ending with that :-P