Chess and I have just got back from the most fantastic weekend in Chichester and London with highlights including Roger Allam, Lara Pulver and Mark Gatiss. Under the cut there be much random squee, be warned!
As anyone who reads anything in my Tumblog will know, to say I was excited about going to see Uncle Vanya would be an understatement. I essentially drove my flatmate (the long-suffering Chess) mad with countdowns to 'V Day', exclamations of 'we're going to see Uncle Vanya soon!' and playing Roger Allam songs on a loop (though she's very used to that now and sings along).
Friday didn't get off to the best of starts as we watched the bus we were supposed to be catching drive on past, but Chess's grandma came to the rescue and gave us a lift to the station. Thus began what Chess dubbed 'the day of many trains' as we went from Leicester to London, caught the tube to Victoria and then caught another train to Chichester but we managed to keep ourselves entertained by playing games on my iPhone and singing (silently, but dramatically) along to songs (sung by Roger Allam, of course).
There was generally much on train insanity bourne of excitement, here is some evidence of this in the form of a picture of me looking surprised by Chess's thumb: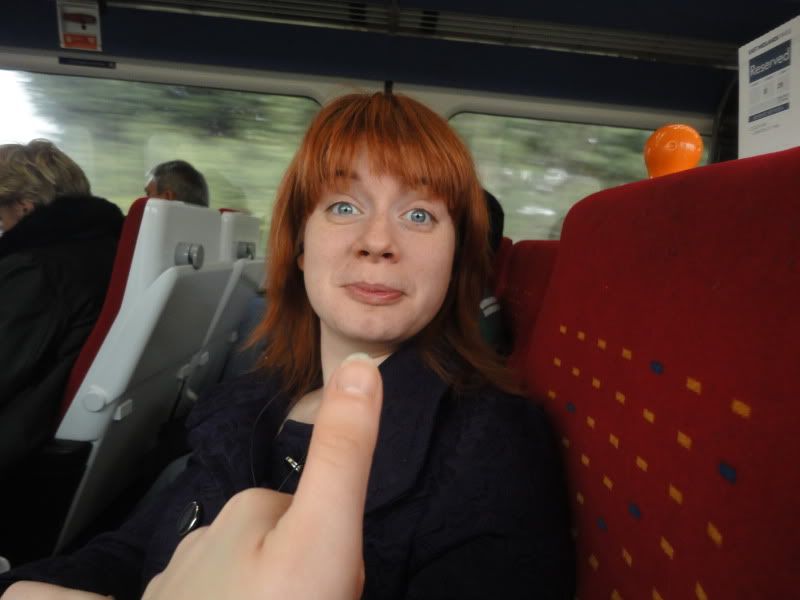 Chichester, we have decided, is one of the nicest places we have ever been to. I hadn't thought it possible to find a city 'adorable' before we went there, but it really is the adjective for it. The people- from the train driver, with whom we had an amusing conversation, onwards- were absolutely lovely. We checked into our very sweet pub B and B and the lady who took us to our rooms told us an amusing story about a bald man who'd stolen one of their hair dryers. I should also mention that en route to the pub, Chess made friends with a bear. Here's a picture of the happy couple:
We bought Easter cards and wrote what Chess describes as 'lovely, non-frightening things' to afix to the Easter eggs we'd bought for Lara Pulver and, you guessed it, Roger Allam. We then wandered over to the theatre where we proved useless at decision making in a restaurant (though the staff were lovely… because this was in Chichester). There was a fantastic canvas picture of Allam outside the theatre which I rather wanted to steal, but back to the narrative.
Food eaten, we decided to go for a wander outside where we found a statue of a naked someone chained to a rock by his foot. Chess queried whether this statue might be of Prometheus but after discussion this seemed unlikely because he would be able to fight the innards eating birdies off rather too easily- cue Chess doing an impression, hopping up and down, arms flailing and shouting 'ahh, buzzards!' I followed suit with an 'interpretive dance' as we walked along the pavement.
This would all have been amusing but entirely forgettable had it not been for the fact that, during the course of my endeavours, we espied a gentleman in a rather dashing hat walking towards us. As soon as I saw him- and his facial hair- I realised who he was, but I also knew that we should probably carry on as if Roger Allam was just another person (pfft) and thus I carried on bouncing about. When we finally drew level with him I was stating that 'on reflection, it probably wasn't Prometheus' and Mr Allam, who had been watching us, made a noise which was either an aborted groan or an aborted laugh; either way, what a great first impression we made!
The play was entirely amazing but as I'm going to write up a full review of it tomorrow I won't go into too much detail now. We had amazing seats, right over one of the doors so we got an aerial view every time the actors came in or out, which was great. Chess also found herself a new OTP as we shamelessly shipped a couple sitting diagonally across from us. When the bows had finished, Mr Allam gave us a 'significant and amused look' as we sat in the audience which rather suggested that he remembered us from earlier (groan). Afterwards we went to stand in a prime pouncing position and waited (though not in a creepy way… I hope).
Lara Pulver came out first and I greeted her with an apology and an Easter egg. She squeaked, told me not to apologise because that was her first egg of the year andamazing, and then Chess and I got big hugs. Chess's girl crush was becoming more firmly cemented by the moment and I bonded with Lara over our shared love of Roger Allam. Then we had some photos, they're below: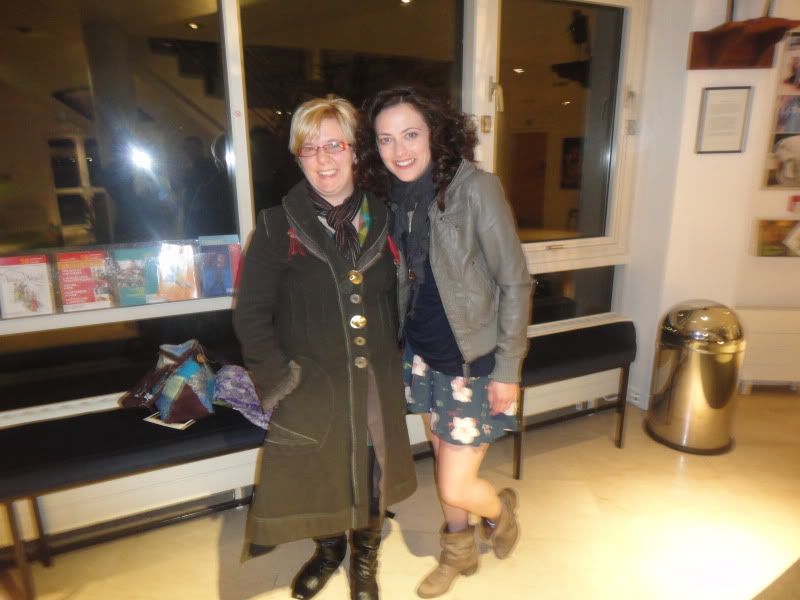 (Lol my head looks massive in that photo. I look like an alien… Ah well!)
By this point I was extremely nervous. I'm quite shy, generally, even when not meeting people I hero worship and I also suffer from mild Aspergers which means that my brain to mouth filter sometimes doesn't quite work, particularly when nervous. All this, coupled with my general excitement and the fact that I've heard that Mr Allam himself can be quite shy, and have seen that he often looks a bit awkward in photos with fans, made me really afraid that I was going to terrify the poor man and mortify poor old Chess.
When it came down to it, however, I really needn't have worried. We saw him come out of the dressing rooms and head towards the stairs (to the bar? To bed? We had a theory that he was living in the theatre, for some reason) and I held out a hand and shouted 'sorry' at him, which he thankfully worked out meant 'come hither' in Puduish (I apologise A LOT). Before heading over to us he looked around as if to make sure we weren't talking to anyone else (as if there was anyone else we'd wish to talk to when he was there!)
I apologised to him (yes, again) and said I had something for him, 'an Easter egg,' I added as I passed it to him. He raised an eyebrow and said in the most bemused tone I have ever heard directed towards the topic of confectionery 'an Easter egg?' He was so stunned by the gift that we could readily believe he'd never before encountered the phenomenon of chocolate eggs being given at Easter. I promised him that it wasn't poisoned, he seemed reassured.
I then apologised (someone should keep a tally chart of these things) and asked him if he could sign a card for a friend. He sat down and wrote her a 'Happy Birthday' message and asked if there was anything else we wanted him to sign 'your bag? You?' I declined the offer for him to sign my person (it took will power) and instead gave him my programme. I said he could sign Chess and that that would make me like her better but then apologised to her in turn because it was an obvious lie- I couldn't like her any more, she's the best flatmate ever. I digress.
Chess had a ticket she wanted signed, but we only had a silver pen to hand but he reassured us that he had a black one and signed the ticket was. 'And one more thing…' of course there was one more thing- if I'm honest, there were several thousand more things- and then I told him that he was my absolute hero (the truth) and that I would be very grateful for a photo (I apologised, of course).
He then stood up and asked where we had come from; when we told him how far we'd travelled, he said that deserved a photo. He then asked where we were staying; my mind was doing all sorts of strange things at being questioned directly in that voice but I managed to reply 'in a pub'- he smiled at this. He has a quick and ready smile and, though it will seem a cliche it really does make everything about him light up. I managed not to respond with 'and you?' (thereby making myself seem like a creepy creepy stalker woman) but it was hard not to when he was being so conversational. So normal.
His face is so expressive that I never once felt that he was only humouring us. It's rare that I feel truly at my ease with anyone and yet with a man I had been terrified of meeting for fear of making an ass of myself, I felt comfortable. It will seem strange, no doubt, but I felt oddly moved that we were able to make him so obviously happy. He's given us- me, especially- so many hours of entertainment and merriment, not to mention inspiration, and for us to be able to give him something back- albeit only for a few short minutes- felt ineffably wonderful.
Though I'm going to post the picture I had taken with him below, I really have to ramble on about how gorgeous he is. He is, as you'll see from the photo, very tall, but somehow he didn't seem it when we were with him because he wasn't at all imposing. He's wonderfully slim and looks extremely well. His hair is amazing and in itself performs feats of dramatic gymnastics and his eyes- expressive, as described above- are wonderfully dark, framed by eyebrows which seem naturally crafted for both softness and irony (if I'm going all mushy on you, I apologise, I'm still a little giddy).
(Even gorgeous with his eyes shut. Note the notorious Easter egg.)
Photo taken, parting words spoken (we wished him good luck with the rest of the run, he thanked us and was glad we enjoyed the play) words swiftly failed me and Chess had to take me for a walk about Chichester to calm me down. It worked to some degree and I did manage to get some sleep though Sherlock woke me up a couple of times shouting 'PINK!' from Chess's phone. She slept on regardless. In the morning we had a lovely breakfast and wandered around the cathedral where we found a statue to 'William Otter' which made us giggle.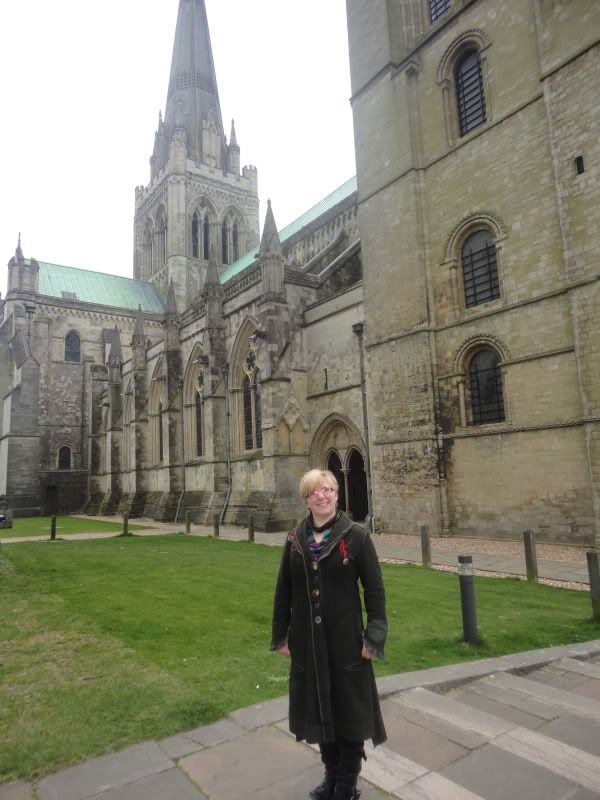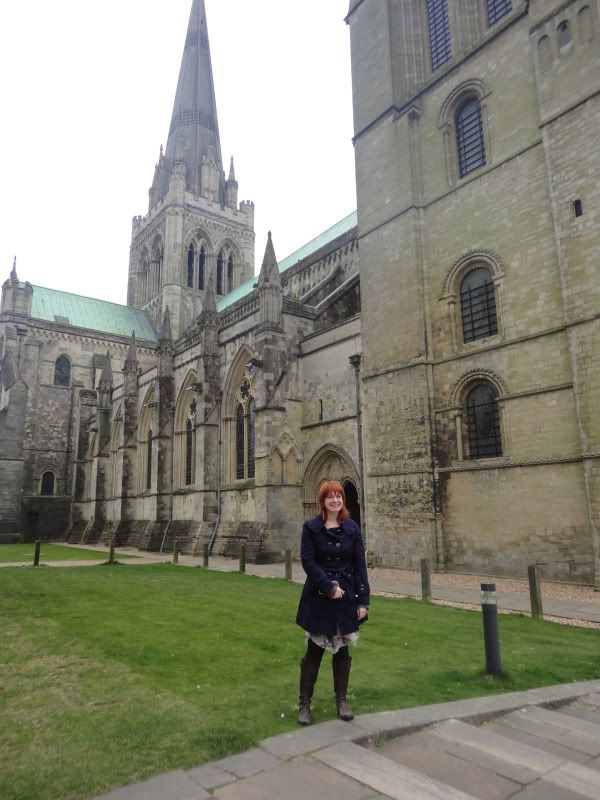 Then to London and The Recruiting Officer which we'd seen before but which was, yet again, hilarious (only this time with the added hilarity of some mishaps which led to hilarious improvisation and corpsing on the part of Mark Gatiss). I'm going to write up a review of that play as well so no more on it here because I'm exhausted and, having read my essay, I'm sure you are too!